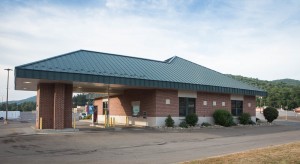 2,400 Square Foot Building on .59 Acres
Triple Net Ground Lease with Investment Grade Tenant expires October 31, 2032.
*Out-parcel to the Bradford Mall
County National Bank (CNB) Financial Corporation provides a full range of banking activities and services for individual, business, and institutional customers through its wholly owned subsidiary, CNB Bank.  All 21 full-service offices and one loan production office operate as CNB Bank throughout Northwestern Pennsylvania, while seven full-service offices operate as ERIEBANK, a division of CNB Bank, in Erie, Harbor Creek, Meadville, and Warren, PA.  Eight full-service offices operate as FCB Bank, a division of CNB Bank in Central Ohio, just north of the Columbus metropolitan area.  Holiday Financial Services now operates 12 offices centrally located in the CNB Bank and ERIEBANK market areas.
Bradford Mall is a 310,000 square foot mall that is located in a strong retail corridor.  Bradford Mall features nationally-known tenants such as: Tractor Supply, Dunham's Sports, Big Lots, Dollar Tree and Peebles.  Taco Bell, Label Shopper, Verizon Wireless, Phoenix Physical Therapy, and County National Bank are also located at the mall property.
The property is located at the entrance to the Bradford Mall and PA Route 346, directly off the interchange of U.S. Highway 219.  This County National Bank location is adjacent to two lighted intersections that see more than 14,000 vehicles per day.  The 30-year ground lease term ends on October 31, 2032 with $5,000 rent increases in years 16-20 and years 21-29.
The net lease terms call for minimal landlord responsibilities, as the tenant is responsible for the all components of the building.