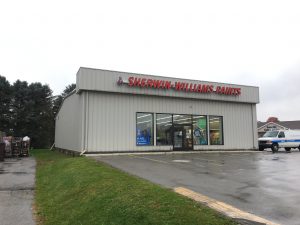 Grove City, PA Sherwin Williams 4,000 Square Feet Building on .52 Acres
Double net lease with investment grade tenant expires August 31, 2027.
Sherwin Williams (NYSE: SHW) is rated A by S&P. Sherwin Williams Corporation guarantees the lease payments and tenant's obligations.  Sherwin Williams is a Fortune 500 company that specializes in paints, coatings, and related products.  2016 revenue exceeded $11.84 billion with 4.6% revenue growth over the previous year.
This Grove City location is an established location for Sherwin Williams.  It is located on West Main Street, which is a main corridor through town and is supported by nearby traffic generators such as Tractor Supply, Sheetz, ALDI, Dollar General, and Burger King.  This location has been operating as a Sherwin Williams since it was constructed in 1999.  The current lease term expires in 2027, but there are three 5-year options to renew with 12% rent increases.
The net lease terms call for minimal landlord responsibilities, including roof, exterior, and structural capital expenses.