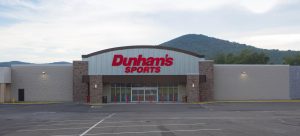 Dunham's Sports opened for business in the late summer of 2015 in a new location — the former K-Mart at the mall.
K-Mart closed in 2004.
When MBC Development purchased the property, the roof of the building had deteriorated to the extent that there were standing puddles on the floor.  The building was gutted and an extensive renovation was completed to accommodate Dunham's needs.

Taco Bell recently opened a new restaurant next to the Bradford Mall. The location is adjacent to a new signaled intersection at the corner of Main Street and Foster Brook Blvd.  The intersection was created for easier and safer access to and from the mall.
The restaurant includes seating for several dozen patrons as well as a drive through.
---